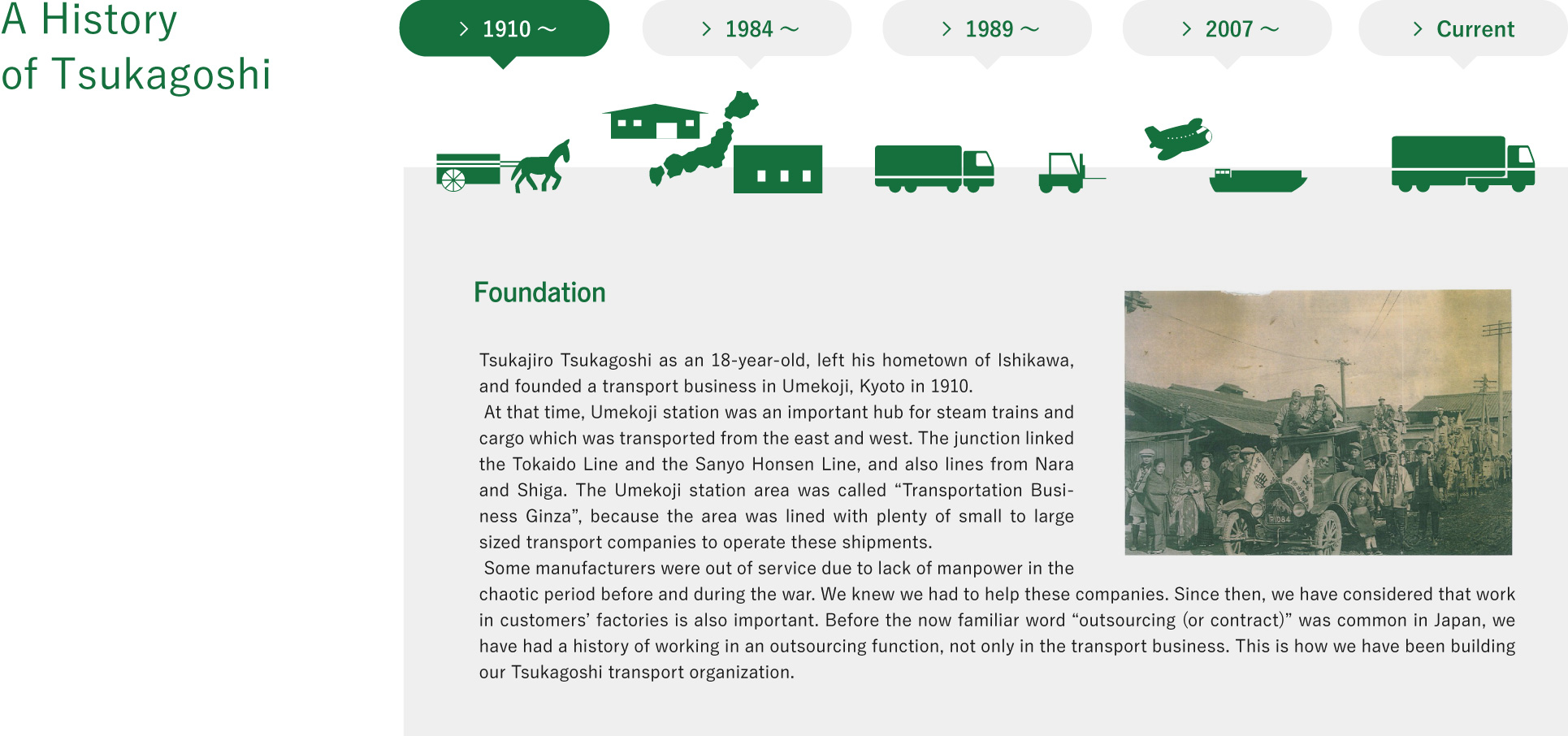 Company History
1910
December
Tsukajiro Tsukagoshi founded his transport business with horse-drawn carriages at Umekoji station (currently Umekoji park).
1928
March
Contracted as an exclusive handling cargos provider for Japan Storage Battery Co., Ltd.(former name) and organized personnel for the services of warehouse cargo handling, carrying cargo on site and loading/unloading.
1954
December
Shigetsugu Tsukagoshi assumed the position of President.
Established Tsukagoshi Transport Shop.
1962
May
Ryuzo Tsukagoshi was assumed the position of President.
November
Founded Kinki Service Co.,Ltd.
1970
July
Opened Nagoya office.
1973
April
Opened Yokooji office equipped with packing/storage functions.
1974
March
Opened Kamitoba office equipped with packing/storage functions.
1977
May
Participated in the management of the large water treatment equipment manufacturer, Daiki Industries Co., Ltd.
1980
August
Opened Gunma branch.
1984
April
Established Tokyo Tsukagoshi Transport Co.,Ltd and started transport services to link Kanto region and Kansai region.
1985
April
Established a new warehouse (which is currently Tsukagoshi Logistics Center) at Kamitoba.
July
Established Tsukagoshi Service Co.,Ltd. which specializes in the ancillary
services of logistics.
1986
April
Miyoko Tsukagoshi assumed the position of President.
1989
April
Opened Shiga office.
1994
March
Opened Kuzebashi office.
April
Installed the AGM (an automatic carton former) at Yokooji office and started reinforced carton boxes services.
May
Obtained the license for Bonded warehouses at Kamitoba office and established an International department.
1997
December
Became the first company to obtain the certification of ISO 9000 among transport business providers in the Kinki region.
1999
September
At the time the Dainippon Screen Mfg.Co.,Ltd. (former name) was established, we opened the Kohoku office (Taga) on their site.
2001
August
Opened Narita office equipped with large temperature controlled warehouses.
2003
March
Established Sun Partner Co.,Ltd. to enter into temporary staffing and recruiting businesses.
April
Registered the warehousing business.
September
Opened Kohoku office (Hikone).
2004
November
Opened Kurume office.
2005
January
Obtained the license for customs clearance services. Customs Clearance services.
2007
October
We obtained the certification of ISO 14001.
2008
April
We got into the women support project. Women support project.
2009
December
Obtained the certification of OHSAS 18001.
2010
January
Transferred the Nagoya office to Komaki-city.
Began cooperation in the NetDepot business.
December
100th anniversary
Tokyo office was opened.
2011
January
Miyoko Tsukagoshi became chairwoman, Tomoyuki Tsukagoshi became president
May
Changed the group name to Tsukagoshi group
November
Set up a new refueling facilities at Kamitoba office and Shiga Office.
2012
April
Opened Kohoku office.
2013
June
Received the Kyoto Long-establishment award.
August
Became the first company in Kyoto to be certified with ISO 39001.
October
Jujo Warehouse Opened Jujo warehouse.
December
Obtained all shares of MS Logistics Co., Ltd. in Higashi Omi city, Shiga to be our subsidiary.
2014
April
Tsukagoshi Service Co., Ltd. was certified as a good and proper contract manufacturing business.
June
Obtained all shares of Sayama Traffic Co., Ltd. in Mitaka, Tokyo to be our subsidiary.
2015
March
We merged with Sayama Traffic Co., Ltd.
2016
March
Opened Hiroshima local office.